1. Stone Mountain
Da Nui mountain is also known as Chau Nham mountain, belonging to My Duc commune, about 6km from the center of Ha Tien. Da Tien Mountain is about 100m high, has a trapezoidal scale, looks quite square in the distance as if it is cleverly cut. This mountain has many mysterious caves such as Mother Sanh Cave, Doi Cave, Hang Da Cave, Trong Xuong Cave, Lau Chuong Cave, Huy Huy Cave, Biet Dong Cave ….
The appearance of Da Dang mountain (ST image)
Each cave is like a sculpture of stone and each cave has a strange name named after the legend, stalactite shape or the feeling that dynamics bring to visitors when stepping inside. . Standing in the inside of Da Tien mountain mountain overlooking the outside, visitors can see the wonderful beauty of the landscape and nature of Ha Tien land. Surrounding the mountain are rice fields stretching from the eyes, sometimes with unknown flocks of white storks. In addition, there are many swamps and bushes around the mountains, creating wild and interesting landscapes.
Thach Sanh cave is famous for its legend (ST picture)
2. Dong Ho Dam
Dong Ho Lagoon is a wetland in Ha Tien town with an area of ​​more than 1300 hectares, taking water from freshwater channels such as Giang Thanh – Vinh Te and Rach Gia – Ha Tien … The special feature of Dong Ho Lagoon It is a communion with Tran Hau estuary, so it influences the diurnal regime of the Gulf of Thailand, so Dong Ho Lake has an extremely rich source of living.
Covering Dong Ho Lagoon (Picture ST)
The lagoon has 25 types of mangrove trees with some familiar trees such as sugars, parrots, plums, purple tilapia … Dong Ho Lagoon which is home to many valuable aquatic products so the familiar image here is hundreds of leaflets. , hundreds of bottom mouths of many fishermen catching fish and shrimp all day and night. Dong Ho Lagoon has great potential for ecotourism thanks to its beautiful and poetic natural landscape: the right bank is Ngu Ho mountain, on the left bank of the left bank is To Chau mountain range, the east has Giang Thanh river, the river is in the west. Ha Tien section leads to the sea. Especially, when coming here, do not forget to be a real fisherman to catch fish and shrimp.
Sunset on Dong Ho lagoon (ST picture)
3. Binh San Mountain
Binh San Mountain is also known as Lang Mountain, located just over 1km from the center of Ha Tien. Binh San Mountain has a height of 50m above sea level, is always fresh and lush all year round, is a wonderful and very peaceful landscape picture. At present, there are still ancient artifacts on the top of the mountain, the vestiges of this place were chosen as places of worship, sacrificing for the wind and earth. In addition, this is a place to express gratitude to heroes who have fallen to protect national independence.
Binh San Mountain is a beautiful landscape picture (Photo ST)
Right at the foot of Binh San Mountain is a freshwater lotus pond still intact from the past. Standing on the top of Binh San mountain, in sight you can observe all the locations of Ha Tien, the majestic scenery makes the mood of visitors become comfortable and refreshing. All the beauty of Ha Tien such as Hon Phu Tu, Thac Dong, Thon Van, and Mui Nai scenic spots … have been taken into perfect view to make Ha Tien painting an extraordinary beauty and charm.
Remote view to Binh San mountain (Photo ST)
4. The temple of the Mac family
If you have come to Binh San Mountain, you can not ignore the visit to the tomb of the Mac house over 300 years old located at the foot of Binh San Mountain. The Mac family temple, in addition to its historical value, is also a highly artistic work, with a harmonious layout and sophisticated, sharp sculptures. The whole temple is protected by a thick stone fence, moss. At the gate of the temple, there is the name of Mac Cong temple, both sides have pairs of Chinese characters, praising the glorious family.
Temple of the Mac family (Photo ST)
The part of Mac Cuu tomb is located between solid walls, the steps are green stone, there are 3m long platforms, donated by Chinese merchants from Quang Tay. In the middle of the mausoleum is the resting place of Mac Cuu, on either side of the tombs and descendants in the Mac family such as the General of Mac Thien Tich, Tham General Mac Tu Hoang, … At the foot of the mountain is their church. The grave of this famous family on the Binh San mountain is a scenic spot and a famous historical site of Ha Tien.
Mac family tomb area (Photo ST)
5. Thach Dong
Thach Dong is also called Thach Dong Hamlet Van standing like a tower, nearly 100 meters above sea level. Thach Dong has a car road up to the staircase to the cave. The cave is quite wide, the rain drops in May invade rock, the spleen flows down and dissolves with calcium to form very unique stalactites. Standing in front of the cave, looking up at the summit of Thach Dong, looks like an eagle spreading its wings.
Road to Thach Dong (Photo ST)
Around Thach Dong there are rocks protruding like the heads of an eagle. Thach Dong is a virtual cave system, where Tien Son pagoda is located, which was built in 1790 by the Zen Lin Te in 1790, during the period of Mac Thien Tich as Governor of Ha Tien. Standing at the middle of the mountain, coming to the caves of the cave, looking at the Cambodian land with the hamlets – the village of the Khmer ethnic group hidden at the foot of the hill. Thach Dong is also the place to discover the famous Thach Sanh fairy tale of Vietnamese people.
Gate of Tien Son Tu (Photo ST)
6. Mui Nai Sea
Mui Nai Sea is only about 5km from the center of Ha Tien, with a mild climate all year round. Mui Nai beach is divided into 2 sandy beaches: No beach and Bai Bang beach. No beach is located next to the fishing village with a crowded house, and Bang beach has a gentle sandy and no big waves, ideal for immersing in cool water. The uniqueness of Mui Nai beach is dark brown sand, a color contrasting with the silvery white waves, constantly smashing shore from the sea. Mui Nai Beach will give visitors a wonderful relaxing time, in the most peaceful and peaceful space.
A lot of people swim at Mui Nai Ha beach (Photo ST)
Often found in this Mui Nai beach, the sight of tourists enjoying lying on the sand, covering sand with people, because the sand here is not simply sea sand, it also contains essences from mud that follow many people. quite good for skin, or at least become an agent that makes skin more tanned. Afternoon, sitting on Mui Nai beach, listening to the sound of seagulls, the sound of sea waves patting, enjoying the cool sea breeze blowing, watching the red sunset slowly descending on the immense sea … will be a relaxing time Great for travelers.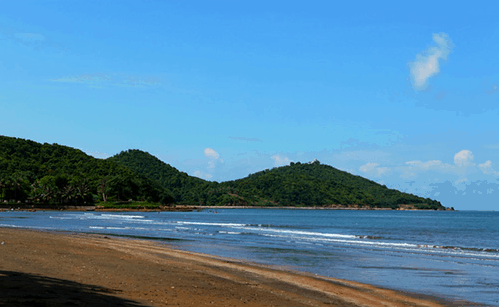 Mui Nai Beach with dark brown sand (Photo ST)
7. Hon Chong
Hon Chong is located in Kien Luong district, is a complex of relics and landscapes with beautiful blue and green beauty and charming marine paint. This land is peaceful, poetic with rolling hills and mountains, with fanciful caves, calm beaches, lovely islands, quiet tombs and temples. Tourists visiting scenic Ha Tien Hon Kien Giang always experience many unforgettable feelings. Hon Chong is famous for its many attractions, but there are three main attractions: Hang Pagoda, Hon Phu Tu and Bai Duong.
Hon Chong is a scenic beauty with beautiful blue water (Photo ST)
Strolling in Bai Duong, enjoying the cool breeze from the sea blowing in and watching the scenery around you, you can feel the wonderful beauty of Ha Tien in the excitement and excitement of the very limestone mountain system. interesting with separate limestone mountains scattered like a table. Visiting Hang Pagoda, visitors will be lost in the quiet space of the pagoda, but hidden things that seem both mysterious and close, with a bit of picturesque scenes. From Chua Hang gate visitors standing on the rocks or to the beach watching Phu Tu Island about 500 meters away – has long become a beautiful symbol of tourism for Kien Giang tourism. Phu Tu Islet is a two-sided high-sloping stone pillars that symbolize the figure of a father and son wrapped in tangerines together overlooking the sea.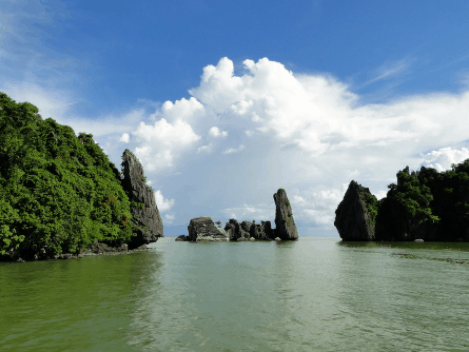 Hon Chong Hon Chong Complex (Photo ST)
8. Suzhou Mountain
To Chau mountain lies close to Dong Ho shore, on the mountain side outside the pepper garden, eucalyptus also has a pagoda built. This mountain has an important position – where one can enjoy sweeping views of the beautiful scenery of the rich Ha Tien land from the top of the mountain. Suzhou Mountain is divided into two mountains: Great Suzhou and Little Suzhou. Located close to Dong Ho puddle, Tieu To Chau always seemed to be shining down on the water to the depths of the world to make love.
Suzhou Mountain Beauty (ST image)
Although Suzhou is taller, it seems humble before the Little Suzhou is full of life. Conquer the summit of Suzhou, visitors can admire the temple in the peaceful calm to the wonderful. Then look down from Suzhou top, you will see immediately in your near vision is the beautiful beauty of Dong Ho, a little further is the panorama of Ha Tien with many vivid points from the house, the village came to the river and the beautiful small country roads like soft silk strips were spread by the wind.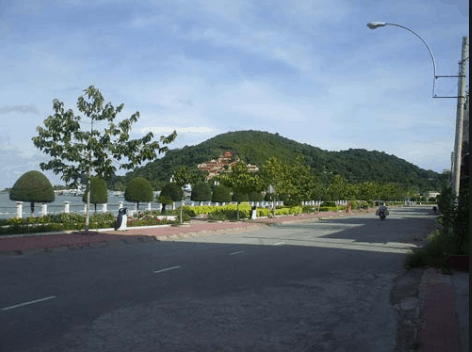 Road to Suzhou Mountain (Photo ST)
9.Ha Tien Night Market
Ha Tien Night Market is located in front of Dong Ho An Nguyet Park, in Dong Ho Ward, Ha Tien Town, Kien Giang Province. This bustling night market is not only a living place for many Ha Tien people but since the development of tourism, this place has become an extremely interesting place to visit and attract tourists.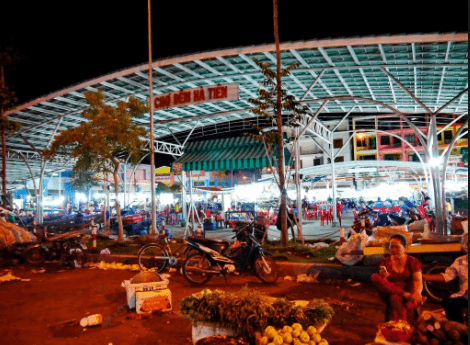 Ha Tien Night Market (ST picture)
If you have the opportunity to take a leisurely stroll to Ha Tien night market, watch people passing by, people buy and sell at the rich stalls, without missing any items from clothes, jewelry, food to service shops. always eat and drink. Ha Tien Night Market has many food stalls. Prices at the market are relatively affordable, small traders selling in this market do not have a strict idea of ​​cutting tourists because in addition to the remote tourists coming here, the indigenous people go out and go to the market. are young people or couples dating lovers …
Food stalls at night market (Photo ST)
10. Pirate Island
Pirate Island located in Tien Hai commune, Ha Tien district, is a strange destination right from the name. Located in the area of ​​Ha Tien Bay – Rach Gia to the Gulf of Thailand, an important trade route from China to Western countries, so many centuries ago, this archipelago is the ideal place for pirates. garrison, cover, ambush and attack merchant ships. Today, in addition to curiosity from the name, people also go to Pirate Island to discover a rare wild beauty.
Pirate Island beauty (ST picture)
On the island, there is a beautiful white sand beach stretching several hundred meters, you can take a relaxing bath, play games on the beach, or rent scuba diving glasses to see coral near the shore, catch crabs and snails around There are many stone cliffs. There is also a freshwater pond on the island, this is a freshwater pond reserved for use on the whole island so it is very important. One of the activities not to be missed while staying at the island is squid fishing, night fishing and snorkeling catching oysters, crabs, snails … When you stay at the people's house, you can ask them to follow the boat to sea to try new feelings.
Pirate Island gradually attracts tourists (Photo ST)
Favorite tours